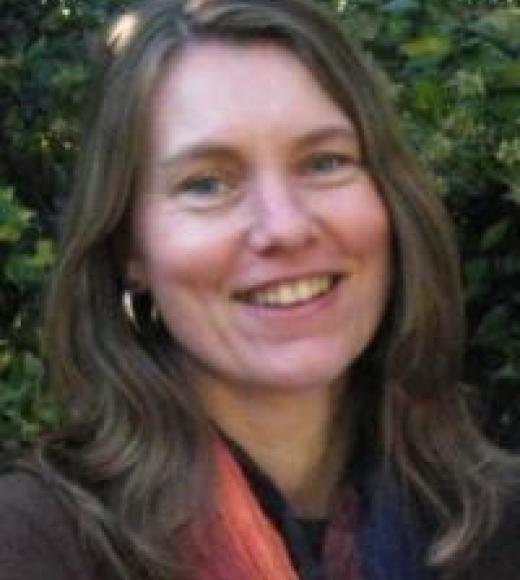 Position Title

Continuing Lecturer in German Language

Language Program Coordinator for German & Russian
Bio
Education and Degree(s):
Ph.D., University of California, Berkeley
Staatsexamen I+II, Universität Göttingen, Studienseminar Bielefeld
Course(s) Taught:
Theories of History and Collective Memory
German History and Culture Post-WWII
Late Medieval and Renaissance History and Culture
The Holocaust in Film and Literature
New German Cinema
Multiculturalism in Germany
German Literature Surveys 800-Present
Beginning and Intermediate German Language and Writing Skills
Profile:
Dr. Harjes grew up in Bremen, Germany, and received a teaching degree in Germanic and Romance languages from the Universität Göttingen. She emigrated to the US and spent four years in New York working for the United Nations Population Fund before entering the Ph.D. program at UC Berkeley. There, she worked with Professors Hinrich Seeba, Robert Holub, and Elaine Tennant, graduating in 2001 with a dissertation on theories of history and memory in the context of Germany's coming to terms with WWII (Dissertation Title: "Denkmäler, Literatur, und die Sprache der Erinnerung: Kollektives Gedenken an den Holocaust in Deutschland nach 1989"). Since 2003, Dr. Harjes has been teaching history, literature, film, and language classes mostly for the UC Davis German undergraduate program, the film and the medieval studies programs, summer school, and the Master's program in public history at CSU Sacramento. In 2012-13, she was Interim Language Coordinator for lower division German and Russian. Dr. Harjes has also worked in K-12 outreach at the Davis high school, and at the UCD Center for Human Rights in the Americas. Her current research interests focus on experiential memory practices and concepts of authenticity.
Selected Publications:
Journal article: "Disarming Hatred: History Education, National Memories, and Franco-German Reconciliation from World War I to the Cold War". Co-author Mona Siegel. In: History of Education Quarterly (2012) Vol. 52:3
Book review: Translation Practices: Through Language to Culture. Ashley Chantler and Carla Dente, eds. In: Unterrichtspraxis (2011) Vol. 44
Short story: "Gefallene Engel: Großdeutsche Lösungen". In: Geschichten + Gerichte. Otger Holleschek and Matthias Schlick, eds. (München: Dölling & Galitz, 2008)
Journal article: "Stumbling Stones: Holocaust Memorials, National Identity, and Democratic Inclusion in Berlin". In: German Politics & Society (2005) Vol. 23:1
Dissertation: "Denkmäler, Literatur, und die Sprache der Erinnerung: Kollektives Gedenken an den Holocaust in Deutschland nach 1989".
Honors and Awards:
Outstanding Graduate Student Instructor Award, UC Berkeley, 2001.
Dissertation Research Fellowship, German Department, UC Berkeley, 1999.
Humanities and Social Science Research Grant, UC Berkeley, 1998.
News and Events
Upcoming talk: "Max Weber and Religion of China: Enchantment, Life, and World as Method"
Professor Chunjie Zhang (UC Davis German), Monday, June 3 at 12:00 p.m. in 912 Sproul
German Colloquium Series
Upcoming talk: "Jewelry in the Medieval German Artusroman: Beyond Fiction, Reality, and Expectations"
Stefanie Schöberl (UC Davis Graduate Program in German), Monday, May 20 at 12:00 p.m. in 912 Sproul
German Colloquium Series
Upcoming talk: "Enlightened Citizenship in Lessing's Emilia Galotti (1772) and Mozart's Lucio Silla (1772)"
Wednesday, May 15
4:00 pm
912 Sproul Hall
Professor Sven-Erik Rose's Current Research on Literature Written in Nazi Ghettos was Featured in March 2019 "Scholarship Issue" of 'News from AJS: Association for Jewish Studies'
Professor Sven-Erik Rose's earlier book, Jewish Philosophical Politics in Germany 1780-1848received a major award from the Association for Jewish Studies (AJS). His current research, which delves into the written works created by Jewish peoples during their time interned by the Nazis in ghettos - most famously in Warsaw, Lodz and Vilna - is highlighted in the March 2019 issue released from the AJS. Read his comments about his research quoted in the publication here.
Recent UC Davis German PhD Lauren Nossett Publishes The Virginal Mother in German Culture with Northwestern University Press (March 2019)
Congratulations, Lauren!
Stefanie Schoeberl Awarded the Sieglinde Hartmann Prize
Congratulations to German graduate student Stefanie Schoeberl, who recently received the Sieglinde Hartmann Prize awarded by the prestigious International Medieval Congress held each year in Leeds, England. For more information, please read the article.
To all of our 2018 incoming first year and transfer students, your advisers in Sproul Hall wish you a warm welcome! Willkommen !
Professor Gail Finney, PhD Candidate Will Mahan and PhD Alumna Amila Becirbegovic Contribute to the Journal "Humanities"
Congratulations to Professor Gail Finney (Comparative Literature and German), German PhD Candidate William Mahan, and Assistant Professor of German at CSU Fresno (and recent German PhD graduate) Amila Becirbegovic for their contributions to the special issue of the journal Humanities titled Wounded: Studies in Literary and Cinematic Trauma.  Please read the article for details.
German PhD Candidate Will Mahan Awarded Provost's Dissertation Year Fellowship for 2018-2019
Herzlichen Glückwunsch to German PhD Candidate