Fall 2023 Courses
Jump to --> Language Courses | Lower-div | Upper-div | Graduate Courses
Not sure where to start with German?
Take a placement test in the Davis Language Center in Olson 53. The Center administers walk-in placement exams on the computer during regular business hours. The test takes about 20 minutes, and you get the results immediately. https://ucdlc.ucdavis.edu/
If the test places you into GER 22, or into a class we don't offer in that quarter, email the Language Program Coordinator for advice at kharjes@ucdavis.edu.
CEFR (European reference scale) equivalence:
A2 = Successful completion of 1st year German at UC Davis
B2 = Successful completion of 2nd year German at UC Davis
Course definitions:
Elementary German = 1st year
GER 001: Basic grammar, vocabulary, and conversation for absolute beginners. Grammar concepts are taught in authentic cultural contexts whenever possible. Not open to heritage speakers or those who took German classes in high school.
GER 002: Continuation of basic language and culture instruction. Prerequisite: GER 001 or consent of Language Program Coordinator.
GER 003: Conclusion of elementary German. Prerequisite: GER 002 or consent of Language Program Coordinator.
Intermediate German = 2nd year
GER 020: First course in intermediate German reading, writing, speaking, and listening comprehension. Introduction to longer authentic fiction and non-fiction texts and basic text analysis vocabulary. Practice of higher-level communicative strategies. Review of 1st year grammar concepts.
Prerequisite: GER 003 or consent of Language Program Coordinator.
GER 021: Continuation of intermediate German, and review of 1st year grammar concepts.
Prerequisite: GER 020 or consent of Language Program Coordinator.
GER 022: Conclusion of intermediate German. The curriculum is designed around a special topic chosen by the instructor.
Prerequisite: GER 021 or consent of Language Program Coordinator.
Undergraduate Courses
Language
GER 001, 002 Elementary German
GER 020 Intermediate German
Lower Division
GER 010 Fairy Tales
Elisabeth Krimmer
Fairy Tales from the Brothers  Grimm to Walt Disney | CRN 35294
This course introduces students to the genre of fairy tale with a particular  focus on the life and works of the Brothers Grimm and Hans Christian Andersen. All works will be situated in their respective cultural and  political contexts. In addition, we will discuss different adaptations of these classic tales, in particular Disney movies, but also Hollywood feature films such as the recent live-action Cinderella, Beauty and the Beast, and Enchanted. Throughout we will pay particular  attention to the construction of race, gender, sexuality, and power in these tales. Students will also get to know different theories of and approaches  to folk tales and fairy tales, including historical and psychoanalytic analysis. The fairy tales to be discussed include Hansel and Gretel, Snow  White, Sleeping Beauty, Cinderella and Little Mermaid.
If you have questions, please contact emkrimmer@ucdavis.edu
GE (New): Arts & Humanities, Visual Literacy, Writing Experience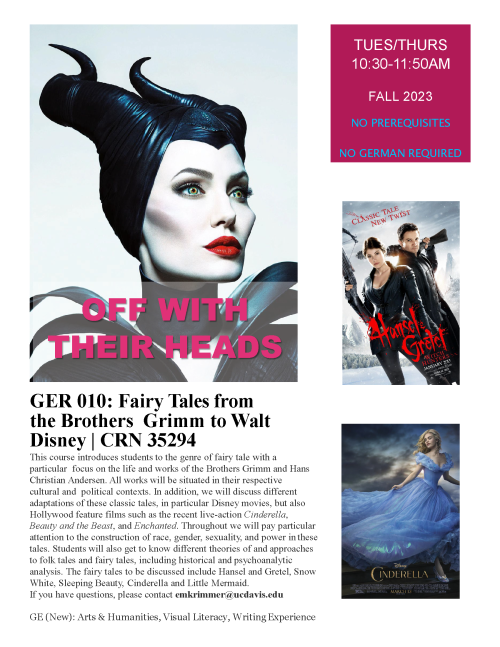 Upper Division
GER 101A German Literature: 800-1800
Kirsten Harjes
The course will acquaint students with German-language literary works from 800 to 1800. We will take a cultural-historical approach, studying major historical events, technological innovations, music, and visual art alongside the literature. Germanic runes, sagas, and Old High German charms start us off. We continue with the Nibelungen Saga, tales of medieval knights, and the Black Death in the 14th century. The second half of the quarter takes us to Martin Luther and the Reformation, the 30-year war in the 17th century, and the folk story of Dr. Johann Faust. The Faust folktale leads us to excerpts of Goethe's Faust and early Enlightenment. All primary texts, assignments, and discussions will be in German.
Prerequisites: GER 22 or consent of instructor
GE credits: AH, OL, VL, WC, WE
GER 103 German Writing Skills
Kirsten Harjes
Dieser Kurs dient vorrangig der Verbesserung von Schreibfähigkeiten und bietet eine intensive Beschäftigung mit grammatischen und stilistischen Regeln, Problemen und Tricks beim schriftlichen Formulieren auf Deutsch. Wir werden verschiedene Genres wie autobiografisches Schreiben, Rezensionen, Argumentationen, Kurzgeschichten und Lyrik analysieren und Übungstexte zu persönlichen und gesellschaftlichen Themen schreiben. Im Unterricht üben wir neben dem Schreiben auch das Diskutieren auf Deutsch und arbeiten an der Verbesserung von Vokabular und Grammatik. Viel Spaß und Erfolg in diesem praxisorientierten Kurs!
Prerequisites: GER 22 or consent of instructor
GE credits: AH, WC, WE
GER 112 Topics in German Literature - China and German-Speaking Europe
Dr. Chunjie Zhang
Does China, an East Asian country, have any cultural or literary connections to German-speaking countries (Germany, Austria, Switzerland) in Central Europe? Could these two linguistically and culturally distinct places share anything in their ideas about economics, morality, family, happiness, beauty, spirituality, or politics? Please come and join our discussion about the rich history between East Asian and European cultural exchanges from 1700s to the present. We will read poems, dramas, novellas, essays, and watch movies about the orphan of Zhao, the princess Turandot, Confucian Mandarins, a clockmaker's journey to China, a psychoanalyst's fervent reading about Chinese Buddhism, or the metaphor of the Great Wall. Of course, we will also discuss socially pertinent issues such as imperialism, warfare, colonialism, and visions of new world orders by thinkers in both China and German-speaking Europe.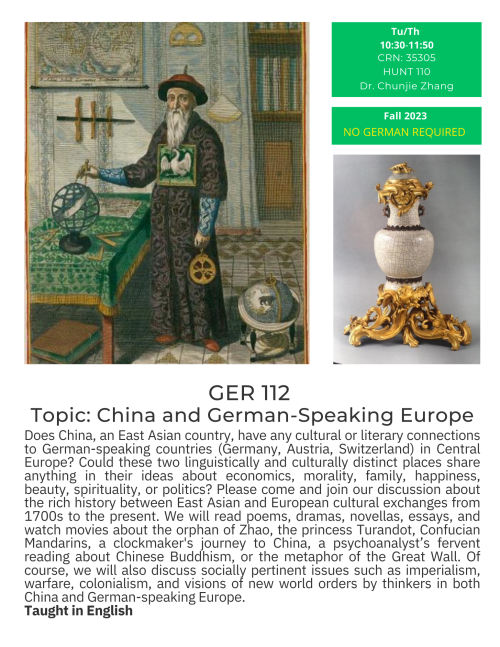 GER 114 German Women & Film
Elisabeth Krimmer
This course explores the work of some of the most important German actresses and women filmmakers from the Weimar Republic to the present, including the Nazi director Leni Riefenstahl and the German-American film star Marlene Dietrich. We will focus on changing conceptualizations of gender against the historical backdrop of 1) the Weimar Republic, gender experimentation and transgression; male anxiety in a Germany that lost the Great War 2) the Third Reich, the question of fascist aesthetics; gender and Nazi ideology; the documentary; 3) the post-war period: attempts to come to terms with the Nazi past, the melodrama; women as victims and perpetrators; 4) terrorism in 1970s Germany, German terrorism and its link to the Nazi past; women as terrorists and icons of innocence 5) recent internationally successful German films.
If you have questions, please contact emkrimmer@ucdavis.edu
GE (New): Arts & Humanities (AH); Visual Literacy (VL); World Cultures (WC); Writing Experience (WE).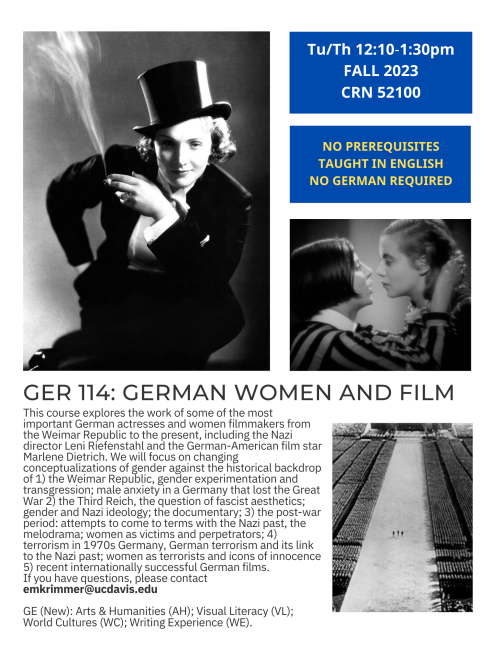 Graduate Courses
GER 297 - Special Topics in German Literature
Section 1 - Chunjie Zhang Justice
The issue of justice has been the focus of social movements, political discussions, and academic discourse about poverty, gender, and race. In the recent years, decolonization has taken the centerstage of the critique of justice. Justice has also been much debated in the issue of migrants' rights and human rights. As a moral concept, justice manifests the ethical vision and its legal and social execution in a society. This course explores the genealogy of justice in various historical and cultural contexts and aims to understand justice as a variable category that changes its emphases according to historical situations and purposes. At the same time, this course explores the way in which justice is represented and negotiated in literature, philosophy, and visual arts. Course materials include philosophy, literature, and film that look at ideas of social, economic, gender, and racial justice from the 18th to 21st century. We would discuss, for example, Jean Jacques Rousseau's Second Discourse on Social Contract, Montesquieu's The Spirit of Law, Heinrich von Kleist's Michael Kohlhaas, Karl Marx's Communist Manifesto, Max Weber's The Protestant Ethic and the Spirit of Capitalism, Franz Kafka's The Trial, Herbert Marcuse's Eros and Civilization, Frantz Fanon's The Wretched Of the Earth, Friedrich Dürrenmatt's The Visit, Abbas Khider's A Slap in the Face, films such as "Murders Among Us," and "Rope" etc.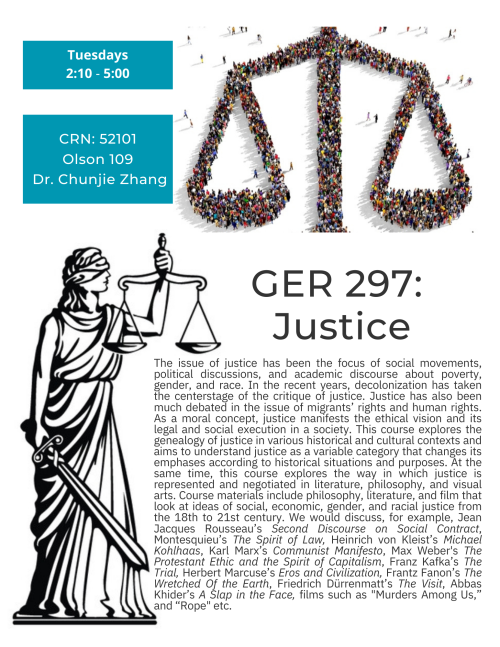 GER 297 - Special Topics in German Literature Section 2 - Stefan Hoesel-Uhlig Graduate Seminar on German Literary Worlds
The focus of this course is on how German theory and literary practice have engaged with other languages and cultures from the later eighteenth century to recent times. The question is of interest for German studies and beyond because the notion of a German literary culture was, compared to other European cases, both especially complex and belated. German-speaking territories were politically disunified until the 1880s. German authors were acutely conscious that their language had become a viable vernacular for literary and intellectual purposes far later than Italian, Spanish, French, or English. One of the key ironies we will explore is that some thinkers in the decades around 1800 turned this painful sense of inferiority into an argument for the transcultural leverage of German writing. Since they had studiously read the foreign writings they had hoped would help them to catch up, were German authors not much better placed than their established European peers to enter into dialogue with other languages and cultures? This presumption was in many ways the starting point for a long history of fraught engagements between German writers and the wider world.
Sources available in translation for COM students who do not have German.
—Johann Gottfried Herder on historical and cultural difference
—The Schlegel brothers, Friedrich Schleiermacher, and Johann Wolfgang Goethe on foreignizing translation
—Christoph Martin Wieland and Immanuel Kant on cosmopolitanism
—Alexander von Humboldt on South American art and culture
—Friedrich Nietzsche on the future of Europe
—Franz Kafka, Amerika
—Hermann Hesse, Siddhartha
—Thomas Mann, Reflections of a Nonpolitical Man
—Uwe Johnson, Anniversaries: From a Year in the Life of Gesine Cresspahl [excerpts] and Patrick Wright, The Sea View Has Me Again: Uwe Johnson in Sheerness
GER 390A - Teaching of German
Kirsten Harjes
This course is only open to graduate students currently teaching in the German language program.