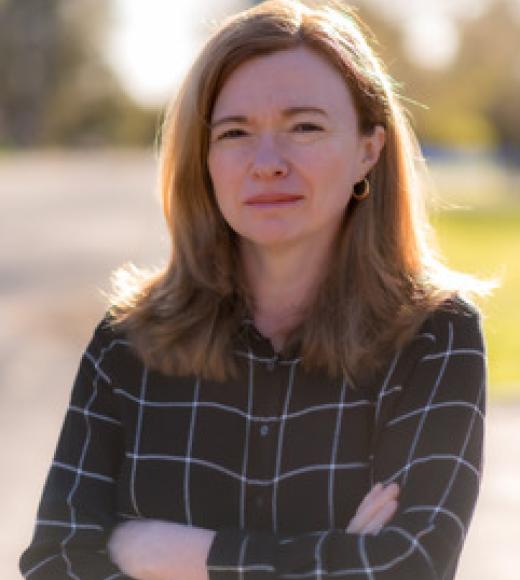 Position Title

Department Chair of German & Russian

Professor of Russian
Office Hours
F23: Tu/Th, 2-3 p.m.
In-Person
Bio
Education and Degree(s):
Ph.D. in Slavic Languages and Literatures, Northwestern University
B.A. in Russian and Theater, University of Wisconsin, Madison
Research Interest(s):
Cultural representations of adolescence in post-Soviet Russia
Contemporary Russian theater and drama
Contemporary Russian film
Gender and Russian culture, especially the representations of maternity
Course(s) Taught:
Humanities 002A: Topic - "Motherhood in Western Culture and History"
Russian 105: Advanced Russian Conversation
Russian 124: Twentieth-Century Russian Literature
Russian 126: Russian Theater
Russian 129: Russian Film
Russian 133: Post-Soviet Literature
Russian 142: Women in Contemporary Russian Culture
Russian 150: Russian Culture
Selected Publications:
Haunted Dreams: Fantasies of Adolescence in Post-Soviet Culture (Cornell University Press, forthcoming, 2022).
"The Ghost of Adolescence Past: Teen Female Martyrs in Svetlana Vasilenko's Little Fool and Anna Melikian's Mermaid," Slavic and East European Journal 63.1 (Spring 2019): 52–73.
"Imagining Adolescence in Selected Works of New Russian Drama," Modern Language Review 113 (January 2018): 194–220.
"Mothers of a New World: Maternity and Culture during the Soviet Period," in Gender in Twentieth-century Eastern Europe and the USSR, ed. Catherine Baker, Gender and History series (London: Palgrave Macmillan, 2016). 81–95.
"Vasilii Sigarev's Post-Soviet Dramas of the Provincial Grotesque," The Russian Review 75 (July 2016): 477–97.
"The Burden of Superfluity: Reconsidering Female Heroism in Anton Chekhov'sThe Seagull," in The Twilight of Realism: Russian Writers and the Fin-de-siècle, ed. Katherine Bowers and Ani Kokobobo (Cambridge University Press, 2015). 126–41.
Women with a Thirst for Destruction: The Bad Mother in Russian Culture (Northwestern University Press, 2014).
♦ Winner of the Association for Women in Slavic Studies' 2014 Heldt Prize for "Best Book in Slavic / East European / Eurasian Women Studies."
♦ Click here to read an interview with Professor Kaminer by the NYU Jordan Center for the Advanced Study of Russia.
♦ Click here to hear a podcast of an interview with Professor Kaminer on New Books in Gender Studies.
"A Mother's Land: Arina Petrovna Golovleva and the Economic Restructuring of the Golovlev Family," Slavic and East European Journal (Winter 2009).
"Theatrical Motifs and the Drama of Everyday Life in the 1920s Stories of Mikhail Zoshchenko," The Russian Review (July 2006).