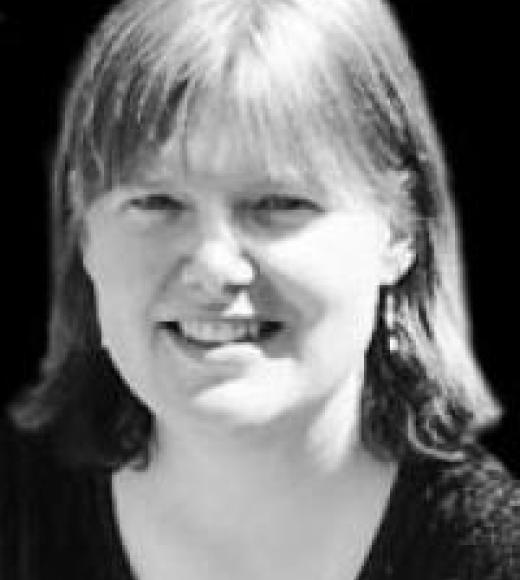 Office Hours
I will not be teaching during Spring quarter. Students should email me for an appointment.
Bio
Education and Degree(s):
Ph.D., University of Michigan, 1995
M.A., University of California, Berkeley, 1991
B.A., Mount Holyoke College, South Hadley, MA, 1987
Research Interest(s):
Germanic Linguistics
Cognitive Grammar
Course(s) Taught:
German 48. Germanic Myth and Mythology
German 291. Foreign Language Learning in the Classroom
German 101A. German Literature from 800-1750
Medieval Studies 20A. Early Modern Culture
Medieval Studies 130: Environmentalism in the Middle Ages
Profile:
The main focus of my research is to test the efficacy of using Cognitive Grammar to provide explanations of German and Russian grammar to first and second year language students.  To date, the use of schematic diagrams combined with student centered learning has been shown to be effective in our program for Russian case at the first year level, German case and two-way prepositions at the first year level and German case at the second year level.  The theoretical foundation provided by CG can be combined with Sociocultural Theory to effectively teach grammar in the target language by having the students actively manipulate the grammatical structures they are trying to learn in the Zone of Proximal Development.  It has been an exciting endeavor to integrate this way of teaching grammar into our undergraduate curriculum.
When not wearing my applied linguists hat, I focus on syntactic structures in Modern German and Old Saxon with occasional forays into the other historical Germanic languages. I have a strong interest in oblique subject constructions in all of their forms and usages.  I recently worked on the Indo-European Non-Canonical Case Project, which collected all the extant examples of this construction from all the modern and historical Germanic languages. Occasionally, I delve into medieval texts to pursue my interest in agriculture and animal husbandry in the middle ages.
Selected Publications:
Books
2004.  A Cognitive Approach to the Semantics of the German Passive. New York: Edwin Mellen Press.
2015. with Kyoko Masuda and Angela Labarca (eds.).  Cognitive Linguistics and Sociocultural Theory:  Applications for Second and Foreign Language Teaching. Studies in Second and Foreign Language Education Series. Berlin:  Mouton de Gruyter.
Articles
"A Physiological Approach to the Merseberger Zauberspruch".  In Tonya Kim Dewey and Douglas Simms (eds.) New Approaches to Old High German Literature.  In progress.
2015. with Karina Deifel.  "Two-way Prepositions and L2 Students of German".  Cognitive Linguistics and Sociocultural Theory:  Applications for Second and Foreign Language Teaching. ed. by Kyoko Masuda, Carlee Arnett and Angela Labarca. Studies in Second and Foreign Language Education Series. Berlin:  Mouton de Gruyter.
2015.  with Tonya Kim Dewey. "The Anticausitive Caused Motion Construction in Old Saxon:  A Source of Oblique Subjects". Zeitschrift für deutsche Sprache und Literatur [PBB]. 137.2, 183-220.
2014. with Harriett Jernigan.  "A Cognitive Grammar Account of Case for L2 Students of German" German as a foreign language 1.
2013. with Diana Lysinger.  "A Cognitive Grammar Approach to Teaching the Russian Case System". Russian Language Journal 63, 135-168.
2013. "Syntactic Gains in Short-term Study Abroad".  Foreign Language Annals 46.4, 705-712.
2013. "Interlanguage Prototypes in L2 Learning:  Evidence from German". Forum Deutsch. 21.1, 52-78.
2011. with Kevin Wolf.  "Fidelity in Der Heliand". Ain Güt Geboren Man:  A Festschrift for Winder McConnell on the Occasion of His Sixty-fifth Birthday. Göppinger Arbeiten zur Germanistik ed. by Gary Shockey, Gail Finney and Clifford Bernd, 1-37.  Göppingen: Kümmerle
2010. with Harriett Jernigan.  "Cognitive Grammar and its Applicability in the Foreign Language Classroom." Critical and intercultural theory and language pedagogy. ed. by Glenn Levine & Alison Phipps, 202-219. Boston: Cengage Heinle
2008.  "A Semantic History of Werden 'to become'". "Er ist ein wol gevriunder man". Essays in Honor of Ernst S. Dick, ed. by Winder McConnell and Karin McConnell, 1-18.  Hildesheim:  Georg Olms Verlag.
2007. "Transitivity Parameters and Auxiliary Selection by L2 Students of German."  Split Auxiliary System.  A Cross-linguistic perspective, ed. by Raul Aranovich, 25-46.  Amsterdam:  John Benjamins.  
2006. "Statal and Processual Passives in Old Saxon:  uuesan vs. uuerdan".  Leuvense Bijdragen.  Leuven Contributions in Linguistics and Philology, 179-196.
Teaching Experience:
Assistant Professor (visiting), Ohio State University, 1997-1998
Assistant Professor, University of Arizona, 1998-2000

Faculty member, Interdisciplinary Program in Second Language Acquisition and Teaching
Director of Basic Languages, Department of German