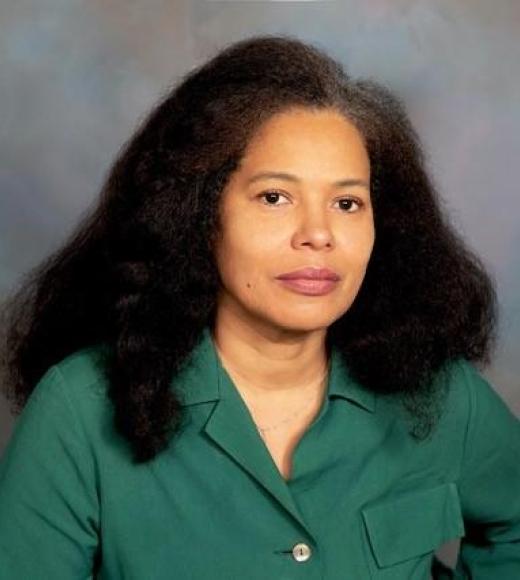 Position Title

Associate Professor of Cinema and Digital Media

Diplomstudium Regie equivalent, MFA Film Director, German Film and Television Academy Berlin (DFFB)
Bio
Branwen Okpako was born in Lagos/Nigeria. She received a BSC in political sciences from Bristol University, England in 1991, followed by MFA equivalent in film directing from the German Film & Television Academy, Berlin (dffb) in 1999. Her graduation film Dreckfresser (Dirt For Dinner 2000) won several international awards including First Steps: The German Newcomer Award for Documentary film 2000, IG Media Award (DOK-Leipzig) 2000, Distributions prize from sales 2000, The 24th Duisburg Film Week Award of the city of Duisburg for the best newcomer film Award, Bavarian State Government Documentary Award "The Young Lion" 2001, Best graduation film at the See Docs Dubrovnik festival 2001.
The fiction feature Valley of the Innocent (Tal der Ahnungslosen, 2004) had its world premiere at the Toronto International Film festival in 2003 and went on to compete in the feature film competition at FESPACO in 2005. For her documentary film The Education of Auma Obama, Okpako received the 2012 African Movie Academy Award for Best Diaspora Documentary, the Festival Founders Award for Best Documentary at the Pan African Film Festival in Los Angeles (both in 2012), and the Viewers Choice Award at the Africa International Film Festival (2011). Her documentary-drama, The Curse of Medea (Fluch der Medea 2014), about the life of the late German writer Christa Wolf, premiered at the Berlin International Film Festival in 2014.
Branwen Okpako is Associate Professor at UC Davis in the Department of Cinema and Digital Media and is currently completing her sixth feature film entitled Chibok Girls based on the 2016 book of the same title by Helon Habila.
Courses
TCS 104: DOCUMENTARY PRODUCTION-Helon Habila. News (2) TCS 104: DOCUMENTARY PRODUCTION Summer Session 2 June 19, 2019 Branwen Okpako Traditional and new forms of documentary. Skills and strategies for producing work. Progression through all stages of pro
TCS 104: DOCUMENTARY TRAILERS-Student filmmakers enrolled in TCS 104: Documentary Production have created trailers for their film projects. TCS 104 explores traditional and new forms of documentary, with focus on technocultural issues. Students develop s