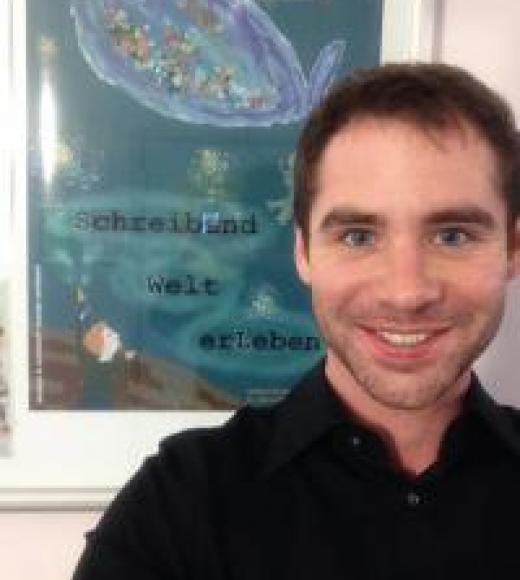 Position Title

Graduate Student in German
Bio
Education and Degree(s):
M.A. in German Literature, University of Oregon
B.A. in German, International Studies, Southern Methodist University
Teaching Experience:
German 01-03 First Year German, UC Davis
German 21,22 Second Year German, UC Davis
German 101-103 Elementary German, University of Oregon
German 201-203 Intermediate German, University of Oregon
German 111 Intensive First-Year German, University of Oregon
Debating in English, Westfällische Wilhelms Universität, Münster
Cultural Studies USA, Westfällische Wilhelms Universität, Münster
English Conversation for the Humanities and Social Sciences, Westfällische Wilhelms Universität, Münster
Profile:
William Mahan is a Ph.D. candidate in the German Department at the University of California, Davis. His current research is focused on humanity's relationship to ghosts of the past in German and Austrian literature and film from the turn of the 20th Century to the present day, considering societal changes in government and ideology as well as technological progress. He has recently presented essays on temporality, memory and genre re-envisioned in Christoph Ransmayr's Lauf der Zeit, world visions in Brecht's The Good Person of Sezuan, and "enviromorphism" in Alfred Döblin's Wang-lun..
Selected Publications:
"Ghosts and their Prices: Surveillance and Image Economies in Christian Petzold's Cinema," Senses of Cinema, September 2017, Issue 84
http://sensesofcinema.com/2017/christian-petzold-a-dossier/surveillance-and-image-economies-christian-petzold/
Triangulating Trauma: Constellations of Memory, Representation, and Distortion in Elie Wiesel, Wolfgang Borchert, and W.G. Sebald," Humanities Journal, November 2017, Issue 94
http://www.mdpi.com/2076-0787/6/4/94
"Blick as the Border of Authenticity in Christoph Ransmayr's Atlas eines ängstlichen Mannes," Journal of Austrian Studies, 2018, Issue 50
"Hans Geissendörfer's Psychological Noir: West-German Adaptations of Patricia Highsmith Novels." co-authored with Erin Altman, in: Patricia Highsmith on Screen, Palgrave (forthcoming)
"Peregrine Pleasures: The Sport of Falconry and Self-Identity in German Medieval Tales," in Fundamentals on Medieval and Early Modern Culture: Pleasure and Leisure in the Middle Ages and Early Modern Culture, vol. 22, de Gruyter. (forthcoming).
Honors and Awards:
2015-16 UC Davis Provost's Fellowship
2018-2019 Provost's Dissertation Year Fellowship